Chatswood
Spiritualist

Church
Development
Sunday Afternoon
Mediumship, Meditation and Healing Development Circle.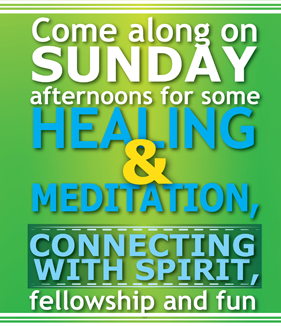 This circle starts at 4:30pm at the Church following the afternoon Service.
Friday Nights
Healing and Mediumship Circle.
Friday night development group at the church is starting this Friday 27th July.
Welcome to a sacred space. Our group is focussed upon connecting with our spirituality, bringing enlightenment, healing of self and others, and providing a pathway of personal development. Through this one may develop their intuition and attunement to your life's journey.

A range of workshops and activities involving regular spiritual/psychic development classes, connecting with spiritual realms and your higher self. There will be, mediumship demonstrations and readings, exploration of topics including past lives, karma, trance, energetic healing and steps to higher consciousness. There will be options for socialising with like-minded people in a safe space plus much more.

My name is Roger, my life purpose, inner development, spiritual knowledge and offering this to others, is a big part of my journey. I have been walking this pathway and been involved in a number of groups for over 25 years. Along the way I have developed my intuition, learnt to read flowers, opened the senses to mediumship and the psychic spheres, become far more centred in life and been more open to both free choice and destiny. I am also a school teacher and had a previous corporate career and this group is well-grounded on a solid basis.

This Friday night group will be held in Girl Guides Hall, Thompson Ave Artarmon.
Contact Rev Christine for more information if you are interested in joining this group.
An Evening with Spirit
Guest Demonstration Evening.
Venue: At the Church. Time: 7:15pm for a 7:30pm start.
Investment: $25.00.
Check in regularly with our SPECIAL EVENTS page, Facebook and email for updated details. Please, be advised that the Church does not guarantee the accuracy and reliability of any readings or information that you may receive from time to time during Church services, during development groups or at "Open Days". Any guidance is provided on an "as is" basis without warranty of any kind.